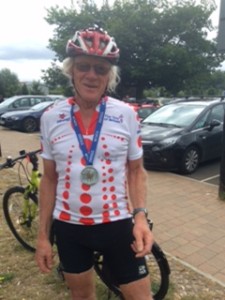 We have to say Congratulations to all who took part in the Ride London-Surrey. Especially our great grandfather leader who sent me this report:
Was caught in Pyrford where we waited for 90 minutes, after then there were regular hold ups on account of the mass of cyclists, narrow roads and more accidents. In all I reckon that we waited 2.5 hours. Did the 100 miles however and have the gong.
With everyone's help, he managed to collect over £500 for Well Child. Well done Norman.
Norman also had a letter published in the Surrey Advertiser of 29 July:
The Importance of cycling helmets.
Cyclists who will not wear a helmet need to reconsider the decision.
Last Tuesday night I arrived at the scene of a road accident at the junction of the East Hill and Old Woking road, where a cyclist was lying in the road. Being a First Aider, I went to the assistance of the cyclist who had apparently been thrown into the windscreen of a car.
The injured person had a light on his cycle but NO helmet, the visible damage to this face and head were dreadful.
Friends of mine say 'Oh a helmet messes up my hair style' – this cyclist could now have a disfigured face for life. Please will all parents of young cyclists and adult cyclists get a helmet and while you are in the shop, a high visibility over-jacket for wearing after dark.
See and be seen is my motto.
At Pub night last month, Julian Keeley joined us. He is one of the founders of Woking Cycle Club. Some of the riders who join us on our easy social rides might be interested in joining his group on Sat.  mornings.  They meet near Cafe Primo in Horsell at 9:30 for a not so strenuous ride. You can find out their activities by joining them on Facebook "Woking CC Saturday Social"
Keith Cresswell has also been busy trying to find out who we can approach to maintain the footpath/cycle lane beside the A3 from New Lane to the footbridge to Wisley.  He sent the following  e-mail to our MP, Jonathan Lord:
Highways England appear to be a bit of a black hole and there is no obvious route to request maintenance of footpaths and cycle paths alongside trunk roads. I was out this morning and can confirm that the footpath/cycle track alongside the A3 at Wisley between Old Lane and the RHS footbridge is still poorly maintained, especially the first 50 metres, which are in a very poor state. We would be grateful if you could help ensure the need for maintenance reaches the correct department.
It would be nice if we could get some action.
Meanwhile, Norman has been approaching councillors for Chobham to see if the cycle route from Chobham to Woking could be reinstated.
I hope that is all the information I needed to pass on this month! If not, I am sure there will be a PS.
Our Easy Social ride will be this Sunday 21 August, meeting near the children's playground in Woking Park for departure at 2PM.
Pub night is August 30th, 7:30 at The Sovereigns.
Happy cycling,
Carole Frost